If you are asking yourself why you need a tandem double stroller think of how much easier they will be to manoeuvre anywhere! Its not easy getting along narrow crowded aisles with a standard double stroller, it's quite easy to bump into things and knock stuff over, but a tandem stroller is much narrower and easier to steer making your trip out with the kids a much less stressful and enjoyable experience.
Twin Strollers or Tandem Stroller – Which Is Best?
As a mother of twins, I have tried both tandem and twin strollers when my children were young. Although each stroller had its share of advantages and disadvantages, my personal preference was for twin strollers.
The tandem stroller was actually the one that we purchased first when I had my twins. I envisioned it being sleek and streamlined, easy to push through aisles while shopping. It was here where I was wrong. Although a tandem stroller isn't as wide as twin strollers, it was not any easier to push. In fact, due to the distribution of weight in the stroller, it would oftentimes be quite difficult. The length of the tandem stroller made it more difficult to avoid possible bumps into objects too. Another disadvantage was the complete lack of storage/basket!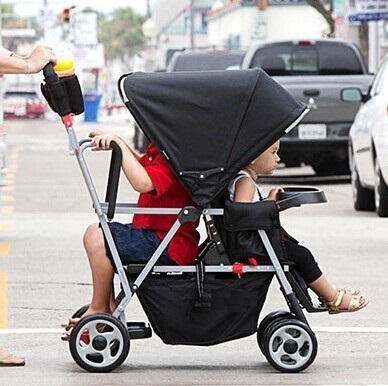 In order for it to be able to fold for travel, there was virtually no storage on the tandem stroller! (Storage is a must when travelling with 2 children!) I initially thought that I would enjoy the tandem design in seating, but that proved to be another nightmare in terms of who got to sit "in front". (The front back design also led to the child in front being poked and prodded by the child in back.) Another design flaw in my opinion was that only the back seat could fully recline. You can learn more about strollers here.
Twin strollers turned out to be a much better option than a tandem stroller. Whereas I first thought it was going to be nearly impossible to manoeuvre, it was actually very easy to steer. Although equally as plush as the tandem stroller, twin strollers are much sleeker.  They fold neatly in half (top to bottom) and have an enormous basket that ran the entire length of the 2 seats as well as under them! Both seats reclined separately so that either child could nap if tired. Since the seats were side by side, both children could see equally as well eliminating that "front seat" syndrome. (The side by side did not stop the poking and prodding, but it did give each child an equal advantage!)
My only complaint about twin strollers (my particular model anyway), is that the awning was in one piece and had to be either up or down for both children. As with everything, you have to do what you feel is right for your situation and family's needs.
Top Double Stroller Reviews 2020
Contours Optima Aluminum Tandem Double Strollers
Nice and lightweight, the Contours Optima tandem stroller makes steering and maneuvering a breeze. This stroller is easy to use and has reversible seats which can be used in 6 different positions. You get an infant car seat adapter with the stroller which is compatible with over 20 infant car seats so you don't have the additional expense of buying one of those.
Jeep Traveler Double Tandem Strollers
This attractive double tandem stroller packs up nicely to fit nicely into compact cars. The front seat is great for bigger kids with its cup holder and toy steering wheel, and the rear seat can take the most popular infant car seat brands.
This is another stroller which has an adjustable handle letting you choose between 3 different height positions… great if you and your partner have a significant height difference!
Baby Trend Sit N Stand Double Tandem Stroller
This double tandem is a great choice if you have to upgrade to a bigger stroller because of a new baby. If you have the younger child in the front the older one can either sit or stand in the back. All in all this is a sturdy and comfortable stroller which is easy to use and steer.
Graco Quattro Tour Duo Flint Tandem Double Stroller
I love the way that the storage basket drops down on this stroller, you can get to your stuff without disturbing the baby if it is asleep!
You also get stadium style seating giving the child in the back a better view. When closed the stroller is nice and compact.
Elite Sit n Stand Double Tandem Strollers
This sit and stand double stroller is so versatile! If you have two younger kids you can use it as a conventional stroller and as they grow (or if you already have an older kid) you can convert the unit to a sit and stand! Both front and back seats are compatible with most major brands of infant car seats.